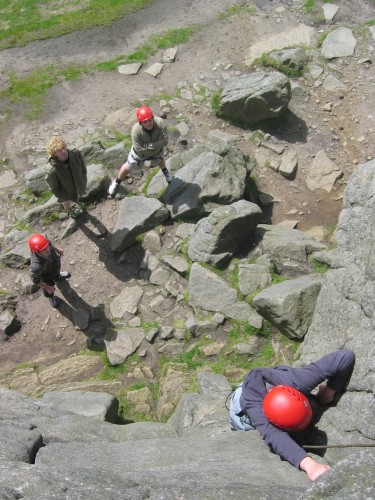 With a ying and a yang and a Buzz, buzz, buzz, a party of 7 set out for Windgather rocks and an afternoon either A) sunbathing in the countryside or B) attempting to climb up some nice rocky cliffs.
The big question of the day being what music to be played in the car, and following a mandatory tribute to oasis, Kasabians second album was selected to ease the 30minute drive to the sunny crag.
Helmets fitted, Harnesses on, chocks away!
The gangle creatures began with a few easy bottom roping climbs as they grappled to get to grips with the rock. Literally! And got used to being lowered down by their arch enemy. Solid belaying and lowering was pretty much faultless, as the 3 Explorers scampered up several routes rigged from above.
Once the hanging easy ropes were exhausted, the chance of a more exhilarating "top out" beckoned their way as they were not lowered back to the ground this time, but able to walk down off the top of the crag. Some mastered the final move onto safe ground with balance, decadence, and finesse, while others bellyflopped, knees a kimbo, and rolled to safety with the struggling grace of a small giraffe.
On the hardest climb of the day there came the opportunity to belay each other up to the top and shout "encouraging" words down to your climber. Much wrestling and brute force climbing followed while more anchors were found for the construction of an abseil rope.
An easy one to start with and get familiar with the system. Figures of eight at the ready and the Explorers were soon commando jumping down the cliff face trying to be Lara Croft. This abseil wasn't much of a problem, so it was time to rig a steeper little number – a bit more exhilarating with some free hanging.
Once tried and tested, it proved to be too much for some. The quick feet at the start catching an abseiler or two out as they lowered themselves over the lip.
With fun levels at the top end of the scale there was no ambition, or energy, to push the fun boundaries as everyone settled for an entertaining afternoon in the sun.
A wrap up of ropes, a little bouldering, the collection of gear, and we were all soon back in the car. Viva Marple!
1 hour 15 minutes until event number 4 : Expedition Take off imminent.
Download all the sunny climbing photo's from here.29MB of pure .zip