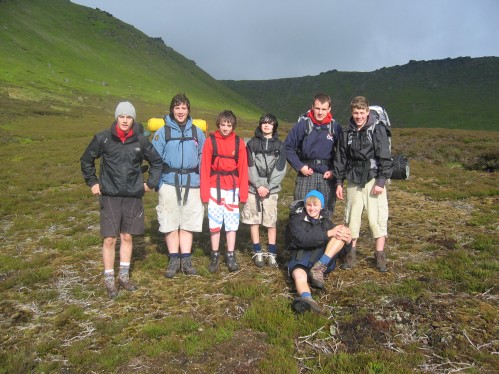 Blow, winds, and crack your cheeks! rage! blow!
You cataracts and hurricanoes, spout
Till you have drench'd our steeples, drown'd the cocks!
You sulphurous and thought-executing fires,
Vaunt-couriers to oak-cleaving thunderbolts,
Singe my black head!
Not my words, but those of Mini Ricky Abernstern upon reaching the Kinder Plateau, or at least they should have been given his superb theatrical performance in the train station!
Having spent the previous hours bracing, preparing, and collecting ourselves for what was to come, now we were here : it wasn't half that bad.
The first hour had passed reasonably quickly in the scout hut as the tents were divvied up and a ball kicked around. A late run for some food culminated with the brilliant, some might say lazy, idea to have the same meal twice : Bacon and sausages for both supper and breakfast.
The second hour contained the superb acting performance (worth a Bafta nomination at least) and a relatively embaressment free train ride to Edale. Although we were delayed as there were some sheep on the line.
A fleeting hello to Vaughny on the station platform who'd been out walking for the day and we were then surprised by the super keen Andy Thorpe, who had foolishly cycled for two and a half hours to join us for the night out.
Thus through Edale and up Grindsbrook Clough, as a party of 9, we scrambled and ascended, summitting in the last of the sunshine at around half past nine. Signal strength now allowed Facebook status to be updated.
Quietness, stillness, and night was descending over the mountain, but not over the explorers who marched rampantly past another wild camped tent, with raised voices. Andrew came forward as the one compass bearer to rule them all, and navigated masterfully over the treacherous peat hag plateau, bringing us to the "coastal cliff top path" on the northern edge. Why was Richard wearing 2 rucksacks? Now to find camp, although the Explorers were happier discovering the rocky shelters and hovels amongst the stones.
A straightforward descent off a steepish spur brought us to down to the water level, and then an amble down stream until we had a reasonable water supply. The light was dying as the tents went up and the stoves came out. Karrimat settees surrounded a communal stove centre glow stick as hot chocolate, bacon and sausage sandwiches were created by camp chef Ward, et al. Dark cold soon appeared and around midnight, with everything consumed, we jumped into tents and sleeping bags – apart from thorpey who slept in his bivvy bag. Night.
3.41am. 4.41am. 5.41am. why do you always wake up in hour stints?
"WOW! WE"RE IN A CLOUD, Have you ever…"
Oh no. What time is it? 5.45am? really? No need for the alarm then.
The Youngsters tent was now wide awake and shouting. Abandon hope all ye who want to sleep.
Breakfast was practically over by 7.45am although a few old boys still had to be tempted by bacon from their tent. Thorpey sped off into the wilderness to find his bike and go to work. We set out for Fair Brook clough.
An uphill stroll up an empty, delightful, bedrock riverbed and more hag hopping brought us to the Kinder downfall. But not before Richard had been dared and then failed to leap one mini ravine, and then dropped his phone into the dark water in the bottom. Suppan should be noted here for his impressive human compass routine which proved dubious at best!
Conversation continued along the top and thoughts of making the 10.30 bus came into view. A descent to the reservoir with the standard karrimat sliding antics and a quickening of pace towards the end, which strung the group out along the roads to the Hayfield bus station.
Arriving late meant triggered the ice cream forfeit clause. Next bus at 11am. Well done all. Good work team. Job done.
But wait! What light in yonder window breaks?
Disaster strikes on the bus as tents and gear were being reunited : Where was the Barkers tent? Roberts was carrying it? Where is it? Oh No!
3 Explorers went back to find the expensive bundle, sadly to no avail.
"So Long Tenty, and good luck".
Shakespeare extracts from Act 3 scene 2 King Lear and Romeo + Juliet Act 2 Scene 2
Get all the photo's here! 35MB of photography genius in a .zip file