As all that were going to Cumberland were povo students, we left Marple earlier than the standard 6pm; it was more like 3pm. We arrived at Cumberland, and after shifting all our food and a bit of kit to the top of the hill (the rest of the kit Explorers had left from the week before), including the candles that we had made on the Wednesday night the week before. We found a half-decent wood pile that most people would be happy to find left for them (thanks Explorers!). However, being Network and our tendency to like big fires and late nights, we set about collecting more wood!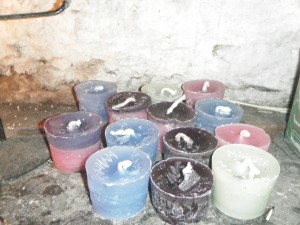 There were only four of us (Hibbo, Greevy, Frodo and Cubby) for the first night, which meant we could all fit nicely around the fire without anybody being too far away to feel cold. There was a brief thought of playing whizz-bang or this is the witch, but seen as we were all ex-Cobden scouts this idea was quickly dismissed as it probably would have turned into chaos!! We decided it would be safer to just chat, and then head to bed.
Three of us woke in the morning to find Cubby gone, we started to speculate. Had he been kidnapped or had he gone to the toilet in the night and got lost, but to our relief he had just gone for an early morning run!! Breakfast of bacon and posh sausages was served then it was time for more wooding. During the morning wooding happy camper number five arrived, Andy Thorpe, all the way from Sheffield on his bike, through the rain. He soon got stuck into the pork pies and sausage rolls for lunch, along with the fruit. More wooding followed in the afternoon as the wood pile slowly crept up to the ceiling. By the time we'd finished we had reached the ceiling and started a second pile.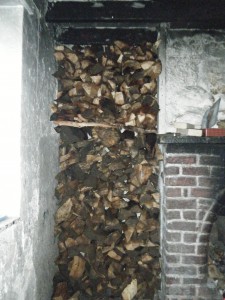 That evening saw the final members of the camp arrive from gang show scenery building, Nippie Nolan and Andy Statham. With tea done we all settled in, in front of the fire and chatted. All Kinder games were still banned as Cobden had a 6-1 majority. A curry was prepared for later in the night. A few people thought it would be a good idea to go for a short night hike and were gone for about 45 minutes to an hour and were ready for the curry when they got back.
Sunday morning was a late start at 11 o'clock to find that Cubby had gone for a run again! A quick breakfast and a tidy of the cottage we were all away by 12.30 carting all our rubbish and kit back down the hill in one run!
020         023         024         033         034         042         045