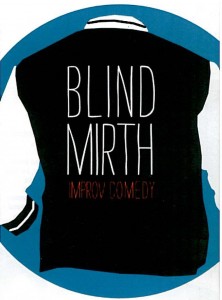 Sam Peach, Marple Networker, Gangshow performer (most notable for his role as the King of Spain in Gangshow 2009?) made it to the Edinburgh Fringe for a 14 day run as part of his St. Andrews University comedy club. I, as a Marplescouts.co.uk sole comedy correspondent, happened to be in the right place, at the right time.
"Blind Mirth Comedy Club" performed a live improvised comedy show (apparently it's big in the USA) and having never seen such an event, the whole show was set to be a revelation.
Like Emporer Commodus and Gladiators; the one hour show begins with games and starts with the coaxing of the crowd (via shouting) into good spirits so they will add novelty and inspiration to the unique show.
Comic sketches then prevail where the players act out bizarre and haphazard scenarios canvassed from the audience or must change words to rhyme or must use lines suggested by the audience.
A touch of comic physicality is then brought into play as a comic's movements are manhandled by others, and the idea pushed further with a game of physical Chinese whispers : 4 comics in turn trying to pass on an already entirely random, audience selected, murderer, location, and weapon. Squeaking and bizarre mimes ensue as the audience puzzles or gradually configures just what the comic is doing or trying to "say".
The first half is easily a success using an infallible formula of bizarre audience led components which would surely entertain no matter which of the ten man crew undertake them.  Canvassing a separate place, object, relationship, etc.. from the audience means you could probably blame them if it was terrible, but in essence creates a completely unrelated set of unique circumstances which the comics must react to, should not really fail to inspire (even if just looking horribly perplexed on stage!), or the audience chuckle at.
With this constantly evolving show, the physical comedy was my favourite providing more intrigue and the ability to surprise or confuse and ultimately entertain. Some of the more straightforward literary games can easily turn dull or not reach a crescendo – or have the audience thinking quicker than the comic.
The second half entertainment then continues with the addition of sound, introduced via a sketch using Oscar winning speeches in mood to background music. Audience Ipods are then taken backstage and well known pop hits are selected to inspire our comical troupe whose imagination and flair can then run wild. Some Sinatra, Katy Perry and Queen later and the show finishes with the unrequired adult blue slot of "I like my men/women like I like my [audience object} …" and subsequent metaphors.
Memorable sketches included a window into the Da Vinci household with their sons Jeremy and Simon, a personality disorder careers interview, and a mock University Challenge.
Blind Mirth gains points for producing an entertaining show and for thinking on their feet and rated 4 out of 5. As the sketches begin, the audience has no idea who is about to play what, or which member will use their idea, how their opposite will respond or quite who chooses when it ends. The ability and creativity to perform and react is to be admired.
The best? Feel free to call me biased, and despite a relatively bit part performance (others have been there 3 + 5 years) I believe "Peachy's" imagination, ability, and wit, was above the rest.  His overall performance notable not only for being the only member of the cast who seemed to play a fuller range of characters : young child, old man, etc.. within the show (most stayed relatively as themselves), but also as the comic who seemed to take ideas one step further on ( a memorable comment about peasants in hot air balloons) or he mined deeper to add to the original funny ideas : his intrusion on to a University Challenge sketch was most sharp and probably the best "gag" of the night.
Hats off and Cub scout B.R.A.V.O.S all round. £6 a ticket would probably be a pound too much but with another Sam from Marple Network off North next month there should be ample scope to see Peach + Co for less.
Andy Togs. Inverness. Wednesday 4th September 2013